Hello!
I helped contribute to this amazing article by Ashlea Halpern to help share with you the absolute best luggage you can buy! As pilots and flight attendants, we live out of our suitcases a large majority of our life so we need ease and dependability. Read here about the tests that these travel tools were put through so that you would know which is the best of the best! Enjoy!
---
Buy Side from WSJ is a reviews and recommendations team, independent of The Wall Street Journal newsroom. We might earn a commission from links in this content.

Learn more.
The 5 Best Carry-on Suitcases for Every Type of Trip
Attention frequent fliers: We tested and vetted some of the most popular models on the market. Pick one up for smoother travels ahead
BUY SIDE RATED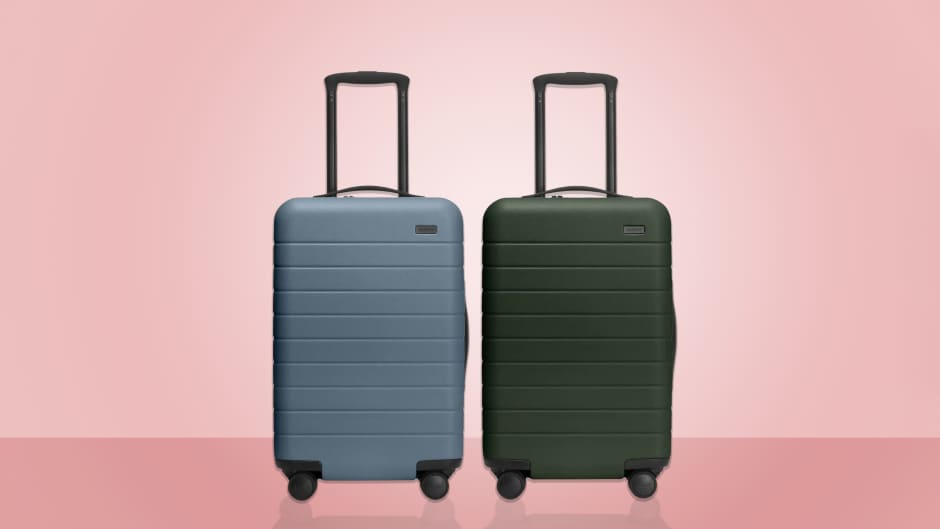 The Carry-On from Away is one of favorite carry-on suitcases after testing some of the most popular models on the market. PHOTO: Buy Side from WSJ Photo Illustration.
Jan. 31, 2023 at 10:00 am ET
Whether you're hopping on a flight or taking a weekend road trip, having a quality carry-on suitcasecan make a major difference in your travel experience. We sought guidance from global travel experts on what they look for in a bag and why. Among their most important criteria were size and carrying capacity, wheelability (how well the bag maneuvered through and around common obstacles), durability and good warranty coverage.With those priorities in mind, we researched hundreds of bags and then ran 16 through a battery of tests designed to mimic the wear and tear of heavy travel. Our top pick was the Carry-On from Away, a social media darling deserving of its hype. We also flagged a handful of other options that are a cut above the rest and suitable for all types of travelers.
To learn more about our favorite carry-on suitcases for every type of traveler and how we made our picks, keep scrolling.
Best overall carry-on luggage
BUY SIDE TOP PICK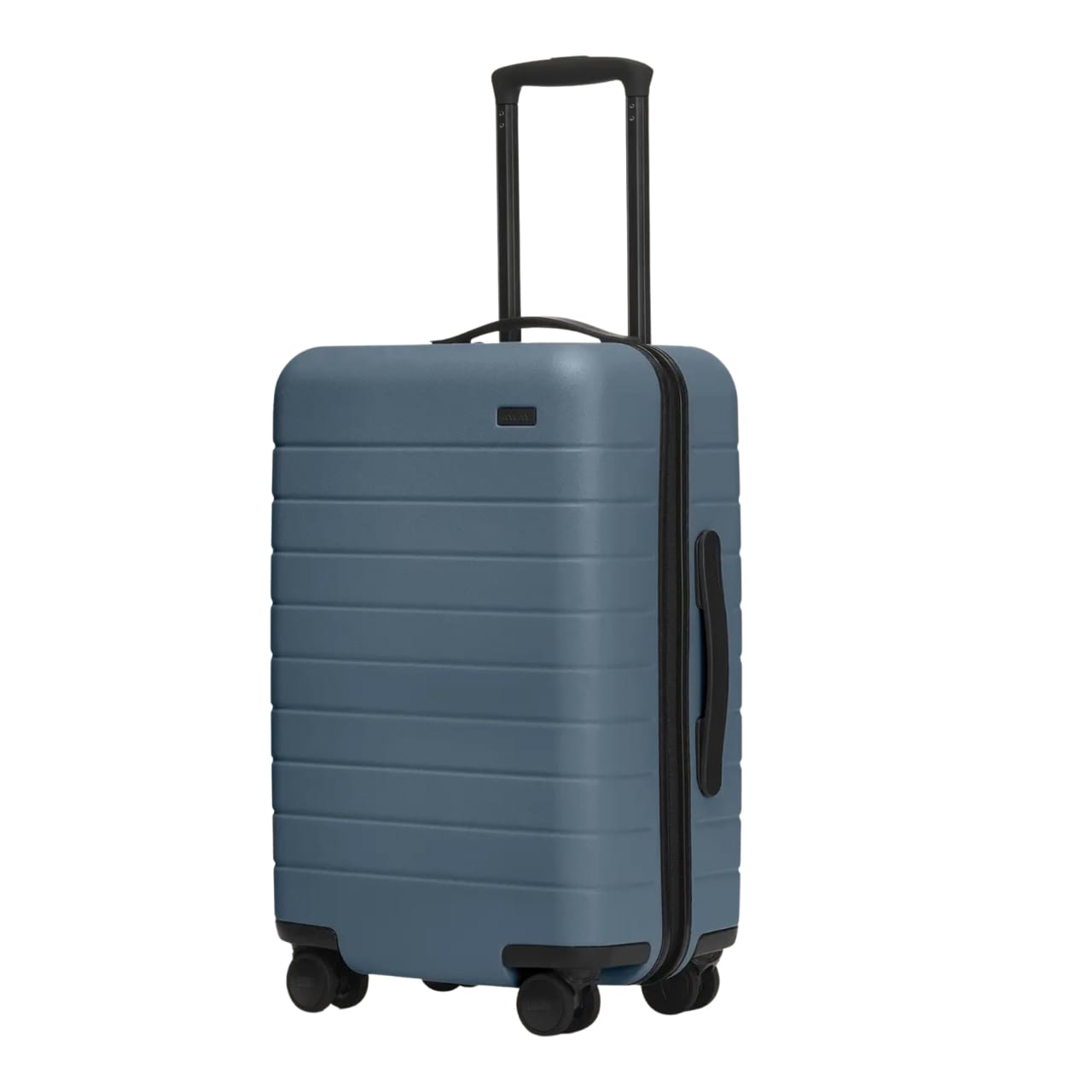 AWAY
The Carry-On
The bag beloved by influencers came out on top thanks to its durable polycarbonate exterior, buttery-smooth wheeling and economical price tag.
Pros
Lightweight yet durable polycarbonate shell
Eight color options
TSA-approved combination lock
Optional USB charger (a +$20 upgrade on select colors)
Suitcases can be personalized with up to three letters
100-day trial period for returns and a lifetime limited warranty
Cons
Ubiquitous; yours is likely to be one of several Away bags on any given flight
Not expandable
Specs
Weight: 7.1 pounds
Dimensions: 21.7 inches by 13.7 inches by 9 inches
Capacity: 39.8 liters
The suitcase that launched a thousand imitators is still best in show. Its selling points have become standard in the mid-price carry-on market: a tough-as-nails polycarbonate shell, 360-degree spinner wheels, a TSA-approved combination lock and a generous return policy and confidence-instilling lifetime limited warranty should anything go wrong. (Note: This covers functional damage only, including shattered shells, broken handles and busted zippers, rather than a scuffed exterior.)
Looks-wise, the suitcase is attractive—it's polished, unisex and monochromatic. Its biggest disadvantage is that it's a victim of its own social-media success: Away bags are everywhere, going round and round on baggage claim carousels and filling up overhead bins. The brand offers more color options than other bags we tested, as well as limited-edition collections, but its ubiquity is real. Owning an Away suitcase doesn't feel special—though it is highly practical. One helpful feature is the optional USB charger and battery pack that make keeping your devices juiced up on the go much easier. Note that you'll have to remove the battery while going through security, though.
The telescopic handle (with two height options) is strong and easy to pull, though the side and top handles might not be comfortable for larger hands. The bag opens into two half shells: One side has a zippered mesh compartment and the other has a mesh divider with a zippered pocket and two buckled compression straps. Our sample easily fit a four-day wardrobe, a pair of men's dress shoes and a pair of men's ankle boots—five or six if we rolled the clothes and sat on the shell while zipping it shut. The dimensions are such that it'll fit in almost any overhead bin; the same cannot be said about the Carry-On's popular big sister, The Bigger Carry-On, which measures 22.7 inches by 14.7 inches by 9.6 inches, exceeding some airlines' carry-on size limits. It's also worth noting that this suitcase is not expandable. That said, Away does offer an expandable version if extra packing flexibility is a priority for you (e.g., if you'll be souvenir shopping).
The Carry-On includes a water-resistant laundry bag, a leather luggage tag and, most critically, a scuff eraser for buffing out the polycarbonate exterior. We put that eraser to the test after thumping the bag down three flights of stairs, dinging it up on an obstacle course and ditching it in a Minnesota snowbank for 48 hours. While the eraser couldn't remove every imperfection, it did a fine job smoothing away all but the deepest etchings.
The multidirectional wheels rolled smoothly on hardwood, tile, carpet and asphalt. They showed some minor resistance on snow, ice and broken concrete in our outdoor obstacle course, but never got stuck or came to a halt unexpectedly. In fact, we were able to move more quickly with this bag than any other we tested—a testament to its maneuverability under duress.
In one of our final tests, we tipped a bit of red wine onto the bag's dark-colored lining, as well as a squirt of shampoo, and then tried to clean it up using wet paper towels. Once the lining dried, we checked again: the shampoo stain was hardly detectable and the wine splotch had completely disappeared. Those results, combined with its $275 price tag, give the Carry-On a value that simply can't be beat.
---
Best carry-on luggage for business travelers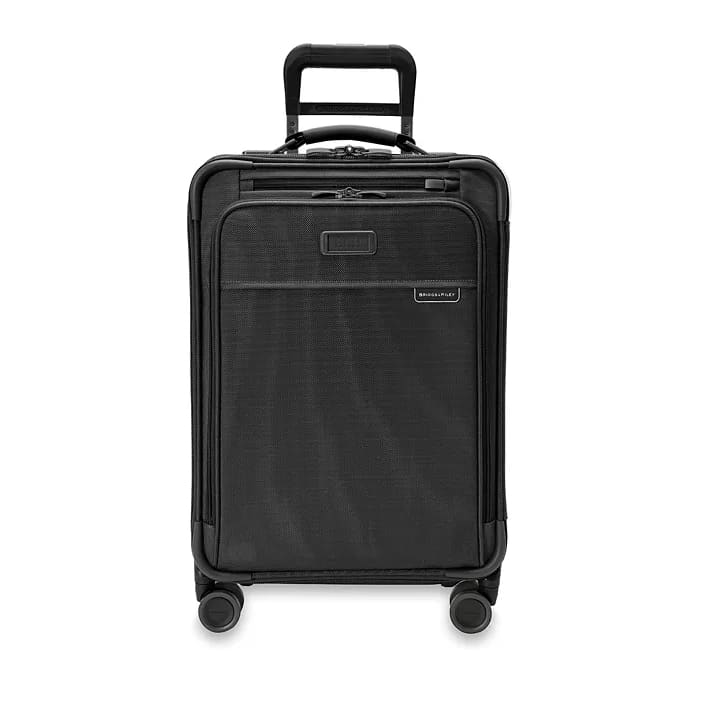 BRIGGS & RILEY
Baseline Essential 22-inch Carry-on Expandable Spinner
The high-quality, low-profile, softside Baseline Essential luggage is worth the investment.
Pros
Durable ballistic nylon exterior
One-touch expansion system
TSA-approved lock, as well as a tri-fold garment bag and leather ID tag
Unconditional lifetime guarantee
Cons
On the heavier side for a carry-on (10 pounds)
Exterior pocket lacks sufficient padding for a laptop
Limited color options
Light-colored lining stains easily
Specs
Weight: 10 pounds
Dimensions: 22 inches by 14 inches by 9 inches
Capacity: 37 liters (up to 48 liters when expanded)
This expandable carry-on from luxury luggage brand Briggs & Riley was designed specifically for business travelers, but is a great bag for anyone who wants an included garment bag and exterior pockets.
The soft-side spinner features a ballistic nylon exterior and looks like something a pilot, ambassador or CEO might carry from points A to B. It's boxy and low-profile, and that's exactly the point. It just looks professional.
Designed specifically with business travelers in mind, the suitcase includes a trifold garment bag with a foam roll bar that accommodates up to two suits (or other formal attire) and a discreet exterior pocket ideal for storing a battery pack and cellphone. A large front pocket fits a sweater or jacket, though it would be more useful as a laptop sleeve, but note that it has no padding.
The multi-height aluminum telescopic handle offers users a comfortable, firm grip, and its placement on the outside of the bag means there's more room for your belongings inside. The main compartment seems snug at first glance, but when using the mesh garment panels, compression straps and interior zippered pockets, we were able to squeeze five days' worth of clothing inside plus our boots and shoes. The unique compression expansion system is unlike any we've seen in other suitcases: It adds 2.5 inches to the bag's depth with the push of two red buttons and collapses just as easily (compared to zippered expansion on other bags, which can be cumbersome).
The 360-degree spinner wheels were impressively smooth on hardwood floors and handled snow, ice, broken concrete and every other obstacle we threw its way with ease. Kicking it down three flights of stairs and leaving it outside in freezing rain for 48 hours? No problem. The case still looked as good as new except for some small scuffs on the handlebar casing. One downside is that the light, beige-colored lining—though it feels luxurious to the touch—does not handle stains well. Evidence of our red wine and shampoo spills was present days after cleaning.
Briggs & Riley is a brand that stands behind its merchandise: Its unconditional lifetime guaranteecovers all functional aspects of the bag, but like other manufacturers, it does not make exceptions for cosmetic wear and tear.
---
Best carry-on luggage for design-conscious travelers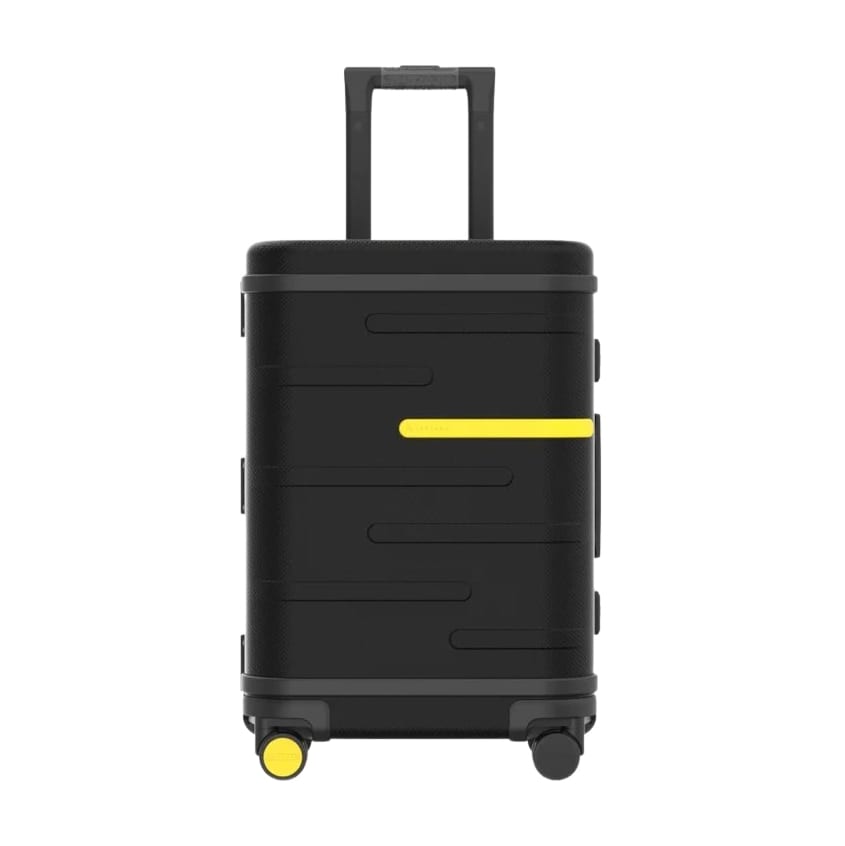 SAMSARA
Tag Smart Grand Carry-On
This eye-catching bag makes traveling with a laptop easier.
Pros
Among the roomiest bags we tested
Textured exterior helps obscure dings and scratches
Includes an Apple AirTag device for tracing the bag's whereabouts
Flat-top design performs double duty as a mobile workstation
TSA-approved combination locks
Cons
It may not fit in overhead bins on smaller aircrafts
Wheels struggled on uneven surfaces
Limited color options
Less comprehensive warranty
Specs
Weight: 10.8 pounds
Dimensions: 22.5 inches by 15 inches by 9.5 inches
Capacity: 43.5 liters
The color palette for the Tag Smart Grand Carry-on may be limited, but the unique design of the textured polycarbonate-and-aluminum case really pops. Given its bold look, the interior is surprisingly minimalist: One side features a zippered compartment and the other has elastic compression straps that buckle in the middle. No bells, no whistles, just plenty of room to pack nearly a week's worth of clothing.
The 360-degree spinner wheels rolled beautifully on hardwood floors but struggled a bit on our snowy obstacle course, at one point dragging a chunk of ice with them. The bag performed better in our stair-drop tests: While we noted some scuffing post-plunge, the pebbled exterior hid most scratches. And two days after spilling red wine and shampoo on the gray lining, neither was discernible.
Other pluses include a stylish dust cover; an Apple AirTag, so Apple users can always track their bag using the Find My app; and a nearly flat top that moonlights as a workstation in airports, subways or wherever else travelers find themselves needing to pull out their laptop. Since there is no way to lock the 360-degree spinner wheels, the bag tended to roll while we typed out our notes, but gripping the frame between our ankles held it in place. The recessed aluminum handlebar, which jiggled more than we'd like, made the bag slightly trickier to pick up—a minor complaint given the convenience of a rolling desk.
Samsara's warranty is a mixed bag: The brand offers five years of coverage on its suitcase body, including corrosion, but only a one-year warranty on moving parts such as wheels, locks and the telescopic handle (in other words: the things most likely to break), which gives us pause.
---
Best carry-on luggage for adventure travelers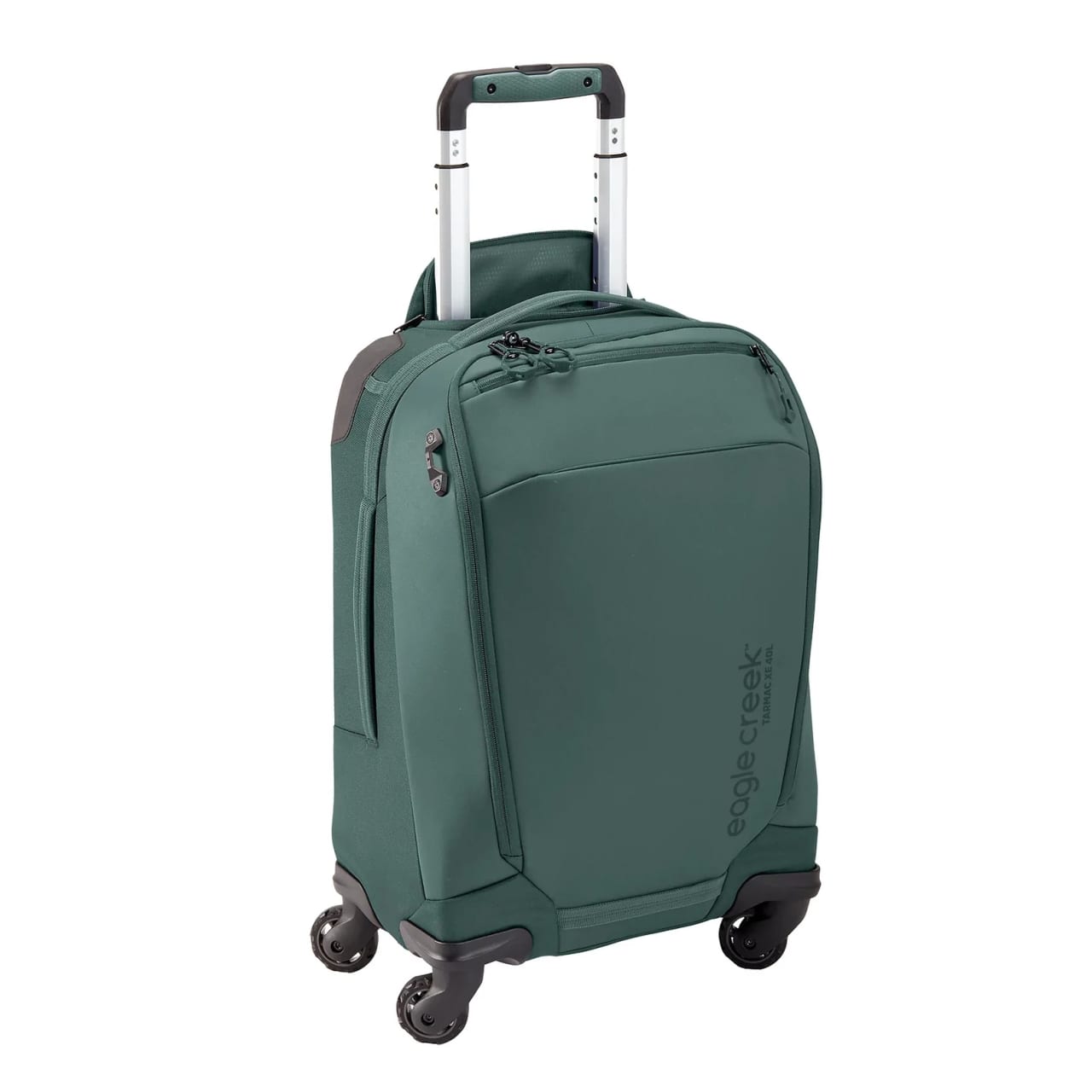 EAGLE CREEK
Tarmac XE 4-Wheel Carry On Luggage
$319 AT THE CONTAINER STORE
This eco-friendly carry-on suitcase holds up to rugged travel.
Pros
Made with environmentally friendly materials
Thoughtful design touches throughout, from reflective zippers to a laptop sleeve
Covered by Eagle Creek's "No Matter What" warranty
Cons
TSA-approved locks must be purchased separately
Limited packing space makes for some organizational challenges
Limited color options
Specs
Weight: 7.43 pounds
Dimensions: 22 inches by 13.75 inches by 9 inches
Capacity: 40 liters
For travelers looking for a more rugged option that doesn't compromise on style, this is one good-looking suitcase: The logo is discreet, the colors are subdued (albeit quite limited if you gravitate toward a more cheerful palette), and the diamond-shaped shoulders of the bag make it stand out from the crowd. More importantly, this bag is built to withstand a lot of use.
The Tarmac XE is made with weather-resistant recycled fabric that proved to be durable in our tests. Our sample sat in a Minnesota snowbank for 48 hours—enduring relentless frost and freezing rain—and lived up to its promises. Moisture brushed away with ease and the lining stayed dry. Spilled wine beaded up immediately on the dark green lining, leaving no trace, and the shampoo stain was barely there after two days.
The bag's multidirectional spinner wheels performed well in snow and ice and were noticeably quieter than those of other samples we tested when rolling on a sidewalk, asphalt, tile and hardwood flooring. It survived three plummets down steps of varying heights with no fabric tears, although the bag's reinforced corners and wheel casings incurred some minor scuffing.
On the downside, the compact Tarmac XE is not expandable and does not include a TSA-approved lock. The solid telescopic handlebar has multiple height settings and can be collapsed and zipped away when not in use, but it takes up a considerable amount of space in the packing well. Compression wings help hold bulkier gear in place, and a padded interior pocket is deep enough to fit a pair of sneakers—or a 15-inch laptop, depending on your priorities. Fans of Eagle Creek's organizational packing cubes will appreciate the bag's detailed instructions on exactly which sets to buy for the best fit.
An exterior pocket at the top of the bag is handy for stashing a cellphone, passport and other small items you'll probably want to access while traveling. Reflective zipper pulls are easy to grip and make the case easier to open and close in dark settings, like a dimmed airline cabin or campsite after dark. A bag tag ID compartment is built right in, too, so you needn't worry about a luggage tag ripping off in transit.
Plus, the brand's "No Matter What" warranty is among the most comprehensive policies we examined—covering all functional features (wheels, handles, zippers, fabric, frames and buckles) for the life of the product. Like most warranties, it does not include cosmetic damage.
---
Best carry-on luggage for budget travelers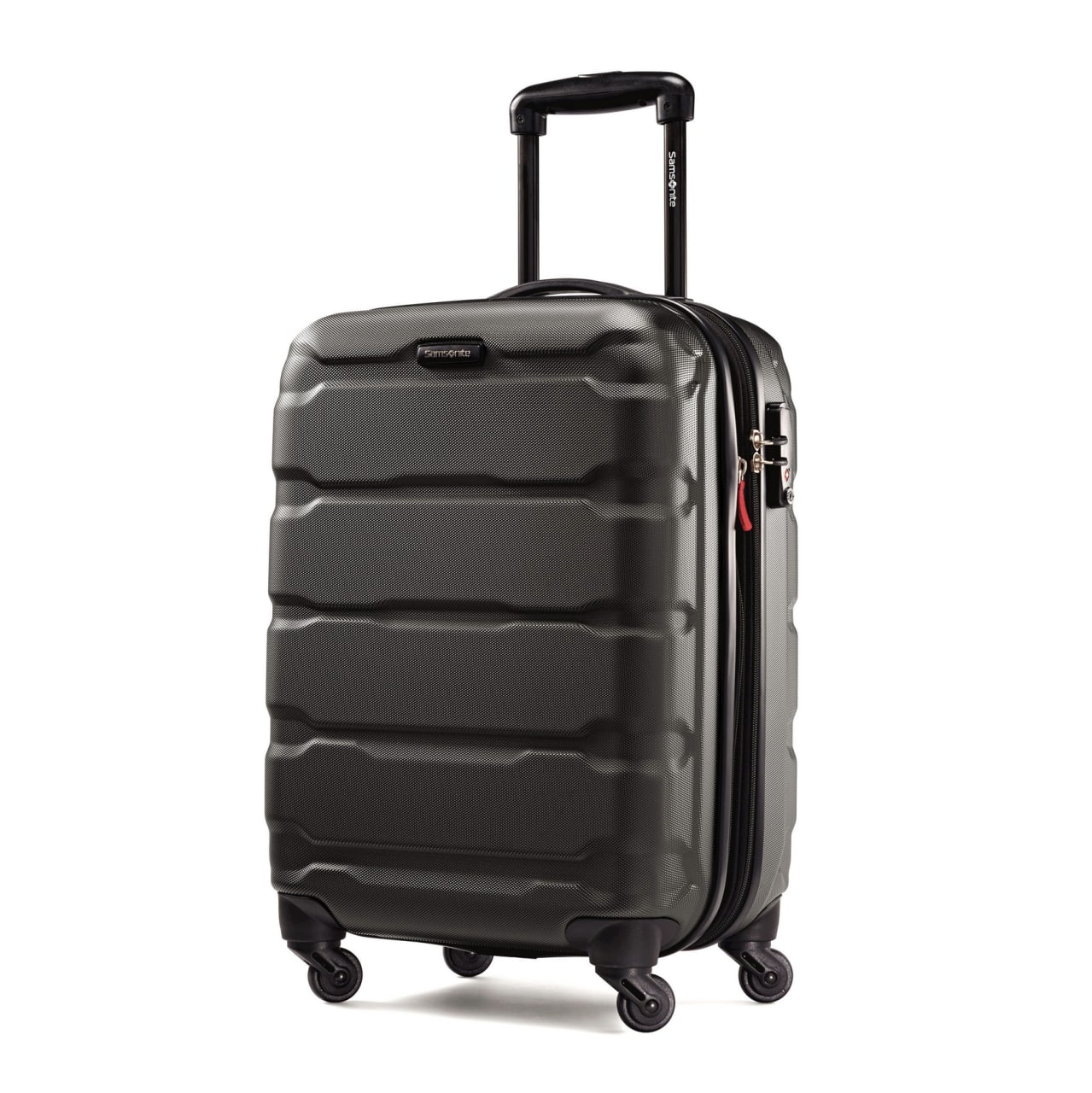 SAMSONITE
Omni PC Carry-On Spinner
$136 AT SAMSONITE
$170 Save $34
This lightweight, durable carry-on bag offers a lot for a lower price than many competitors.
Pros
Textured exterior helps obscure dings and scratches
Zippered expansion offers more packing space
Side-mounted TSA-approved locks
10-year limited global warranty
Cons
Compression cross-strap buckle feels flimsy
Limited color options
Specs
Weight: 7.05 pounds
Dimensions: 22 inches by 15 inches by 9.75 inches
Capacity: Not disclosed
The first thing we noticed about this budget suitcase is that it doesn't look like a budget suitcase. The microdiamond texture on the Omni PC's vacuum-formed polycarbonate shell makes it more scratch-resistant than other cases made of the same material but with a smoother finish. We pummeled the bag in numerous drop tests and banged it up and down several flights of concrete stairs, and save for the handlebar and wheel casings, the exterior showed little signs of abrasion.
The 360-degree spinner wheels, which are noticeably smaller than those of other models we tested, performed surprisingly well in our outdoor obstacle course, although the suitcase had to be pulled on two wheels—rather than pushed on four—through patches of snow, ice and on broken concrete. After enduring 48 hours in a Minnesota snowbank, the retractable handlebar still moved up and down like a champ, the zippers opened and closed without issue, the lining remained bone-dry and the wheels rolled smoothly. There was no trace of the red wine we had spilled on the interior several days earlier, although the spot where we squirted shampoo was still apparent.
Packing-wise, the simple mesh-paneled interior divider and elasticized compression straps kept our belongings modestly organized without eating up precious space, although the compression buckle felt flimsy. This is the lightest bag of our top picks, and it was easy to hoist above our shoulders and roomy enough to accommodate a five-day wardrobe. Fully expanded, however, it might exceed the carry-on size limit on smaller airlines. The 10-year limited global warranty for manufacturing defects is generous for such a no-frills bag, giving us more confidence in the overall quality of the product.
---
Others you should know about
If the weight of a carry-on suitcase is a concern, you'll want to check out the Airox Frequent Flyer Hardside Carry-On ($325) from Victorinox. (Yes, the makers of the Swiss Army Knife.) This feather-light bag weighs a mere 5.1 pounds but punches above its class. The T-shaped, monotube handlebar takes some getting used to and the utilitarian interior would benefit from packing cubes, but the dual-caster wheels dashed through snow and ice like it was marble and took sharp turns in our block-long obstacle course with grace. The lining cleaned up quickly as well, showing no signs of wine or shampoo stains days after our spill test. The only reason it didn't make our top 5 cut was the glossy polycarbonate exterior, which showed more damage than expected in our tumble-and-kick tests.
One of the most innovative-looking suitcases we tested was the Floyd Cabin carry-on($475), winner of both iF and Red Dot design awards in 2022. The unique brand, based out of Munich and inspired by vintage California skateboarding culture, swaps conventional spinner wheels for the polyurethane kind you'd find attached to an actual skate deck. We love the bag's boxy shape, bright orange nylon lining (it makes it easier to find belongings inside), one-click aluminum snap closure, roomy compartments and myriad customization options. (The brand sells wheel sets in nearly every color imaginable and includes a tool for changing them with each bag purchase.) That said, we recommend this bag with a big caveat: The skateboard wheels do not fare well on snow, ice or other uneven surfaces. It's best reserved for style-conscious creative types traveling between airports and in areas with fair weather only (you know, like Southern California).
 Note: Not every brand replied to our requests for samples. Some suitcases we hope to evaluate in the future include the beloved Rimowa Original Cabin aluminum suitcase, the pilot-favorite Travelpro Platinum Elite Carry-On Expandable Hardside Spinner and the budget-friendly 21-inch Hardside Spinner from Amazon Basics. Those models were either out of stock or unavailable for testing during our production window.
How we picked
Trust us
I have worked as a travel editor and writer for nearly two decades and have visited more than 70 countries and all 50 states. From November 2013 until February 2018, I traveled nearly full-time in Asia, Australia and across the U.S. Before the pandemic, I was on the road six months a year; these days I'm away from home once or twice a month. I have served as a contributing editor at Condé Nast Traveler and T: The New York Times Style Magazine, editor-at-large for AFAR and special projects editor at Bon Appétit, and I've written hundreds of travel and product-testing stories.For additional insights on carry-on luggage, I consulted five travel experts, including a hospitality construction manager with more than a million miles under her belt, a career pilot for a major U.S. airline and an experienced mountain climber who has portered all manner of bags through rough terrain. They provided in-depth guidance on the different materials and features to consider, shared their biggest annoyances (i.e., dinky wheels, wobbly handles and sticky zippers) and went to bat for their favorite brands (Away, Briggs & Riley, Rimowa and Travelpro were the clear favorites). These experts also offered ideas for testing suitcases in a controlled environment. (Due to our publishing schedule, we weren't able to execute some of their more elaborate, time-consuming challenges like yanking up each handle 1,000 times and spraying the zippers with salt water and seeing if they rusted over time.)
We tested
There are hundreds of carry-on suitcases available these days, and they vary in material, design and price. Armed with our experts' essential and preferred criteria, we dove into the market research, analyzing the offerings from both legacy brands and direct-to-consumer newcomers; eyeing hundreds of reviews on reputable consumer and e-commerce sites; and cobbling together a massive spreadsheet detailing weight, liter capacity, color options and more. Bags that met the following criteria were given the most consideration:
Dimensions:

The maximum size for a carry-on bag on most major U.S. airlines is 22 inches long by 14 inches wide by 9 inches deep. While the overhead compartments on some puddle jumpers and budget airlines in Europe can run smaller, most bins will fit luggage that is an inch or inch-and-a-half bigger than the stated measurements. Though you always run the risk that flight staff can ask you to check your bag if the bins are full, it's rare—and those extra inches can make all the difference in packing for a longer or more weather-variant trip.

Exterior:

Of our experts, 4 out of 5 preferred hard-side cases, but they were divided on the best material. Three sang the praises of polycarbonate, a high-tech plastic that is both lightweight and impact-resistant, while one made the case for heavy-duty aluminum. The expert rooting for Team Soft-side vouched for the incredible durability of ballistic nylon and the flexibility it gives you when (over)packing. We tested bags across all three categories, weighing the pros and cons of each.

Wheels:

All our experts agreed that the best carry-on bags have four wheels, and noted that those wheels must have 360-degree mobility and be sturdy enough to handle a variety of surfaces, from slick marble to bumpy cobblestone. Our one exception to the four-wheel rule was Patagonia's Black Hole Wheeled Duffel Bag, which has such a cult following among soft-side luggage fans, it seemed worth a closer look. While there were several things to like about that bag, including its rock-solid recycled polyester ripstop exterior, the two wheels were a constant source of frustration during testing.

Expandability:

Three of our experts prefer a bag with expansion zippers, particularly when traveling for an extended period of time or shopping on the road. While we considered this feature a plus in testing, we did not eliminate bags that did not offer an expandability option; in many cases, once a bag has been expanded and filled to capacity, it no longer qualifies as carry-on luggage.
Locks:

Two experts noted that TSA-compatible bag locks are important, but we didn't make that an eliminating factor since you can always purchase external TSA-approved locks.

Warranty:

Two experts stressed the importance of a good warranty, and a third suggested selecting a bag with an extended return policy. While a limited lifetime warranty is ideal, five- or 10-year coverage for manufacturer defects (meaning it excludes general wear and tear) is more common. Several brands, including Away, Monos, Roam and Travelpro, offer 100-day trial periods.
Based on these criteria, we narrowed down the list to two dozen top contenders. (As noted above, not every brand replied to our request for samples, and some bags were either out of stock or unavailable for testing.) In the end, we subjected 16 bags to a litany of tests over a two-week period.
We crammed each bag with four to five days' worth of clothing, including a bulky sweater and a pair of men's ankle boots, and took notes on how its various compartments, pockets and dividers (or lack thereof) helped us stay organized. We tested the bags' maneuverability on hardwood floors, kitchen tile and high-pile carpeting and ran each packed suitcase through a block-long obstacle course that included snow and ice, patches of gravel and broken concrete and sharp turns around potholes, a chain-link fence and a downed tree limb.
To assess durability, we threw each packed bag down a flight of six concrete stairs (twice) and then dragged it back up, bouncing it along each step to simulate the jostling a suitcase might experience in an overhead bin or cargo hold, or simply bumming around a city. To test shock absorption, we also tossed all of the suitcases in a heap from a second-story perch, just as many rampers do when they load bags onto an airplane.We hoisted each bag high above our heads five times in a row to gauge heft and mimic the physical strain of shoving it in an overhead bin. We spilled red wine and shampoo on the linings and then tried to clean them up using wet paper towels. Two days later, after the lining had dried, we checked to see if any stains remained. We even dumped the bags in a snowbank for 48 hours in the dead of Minnesota winter, with temperatures hovering between 8 and 31 degrees Fahrenheit. After the luggage was sufficiently exposed to freezing rain and frost, we checked each bag to see how it weathered the elements—appraising the continued smoothness of the telescoping handles, the glide-ability of the zippers, how well the wheels spun and how dry the interior stayed.
Lastly, we noted "extras" that offered additional value but weren't considered essential features, including integrated USB chargers; storage pockets for a laptop, phone or battery pack; laundry and shoe bags; leather ID tags; dust protectors; tracking technology; and vintage-inspired destination stickers.
Our experts
Molly Egan

, a hospitality construction manager based in Denver, Colo., who flies 50% to 75% of the month for work and leisure, and has both Delta Platinum and United Premier status
The advice, recommendations or rankings expressed in this article are those of the Buy Side from WSJ editorial team, and have not been reviewed or endorsed by our commercial partners.
The advice, recommendations or rankings expressed in this article are those of the Buy Side from WSJ editorial team, and have not been reviewed or endorsed by our commercial partners.
Wishing you Blue Skies and Smooth Flights!
Captain Laura with Ashlea Halpern
https://www.wsj.com/buyside/travel/best-carry-on-luggage-01675101697