"All Books and Films"

by Captain Laura Einsetler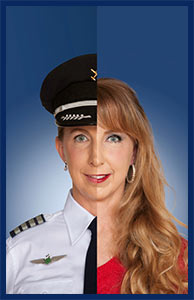 "Air Travel Questions Answered" is an informative guide book to help empower you to remove any fear or concerns you may have. It was created to help educate and empower so that you feel more at ease in the flying environment. It speaks to your many questions about flight and travel! It is a perfect read to take onboard or give as a gift whether you are a frequent flier or an occasional rider!
The chapters include: a brief historical on the evolution of flight, a discussion on how the jets are designed and tested, an overview of the pilots' experience level and thinking process, a journey through the planning and phases of flight, a guide on weather factors and phenomenon, a summary of airline operations and safety, a talk about what the flight attendants tell you and why, tips on healthier traveling, and how to overcome your fears!
"The Passengers Guide to Air Travel" is a start to finish guidebook to help you with all of your needs. From the first moment  you think about booking your next trip all the way through to arriving at your destination, this book will give you the guidance you want each step of the way!
You will read about the best ways to book your flights, prepare your documents, get yourself primed physically, mitigate any potential issues, and pack your items. You will know all the tricks of the pros to zip through the airport process, ride on the aircraft, understand all that is happening around you, know what to do when challenges arise, and happily disembark at your desired location!
"Harrowing Pilot Stories" will give you the images, feelings, and experiences of those of us who live most our lives in the sky! This book series will take you on adventures and give you excitement while sharing moments of thrill, awe, and laughter. 'Do not attempt at home', should be a warning label that comes with these tales!
You will be thrust into moments up at altitude where calm turns to chaos, approaches that leave you wondering if the pilots will even be able to land safely, onboard issues that give serious pause, and mechanical surprises that pump the adrenaline!
"Lost and Found" is a story about nearly losing everything and fighting desperately to regain it all again! This three and a half year memoir account in book and feature film will take you on a journey of resilience, fortitude, and perseverance like none other.
A female airline pilot who was, living her dream life as a major airline pilot, being a mother to two children, was a wife to a wonderful man, and owning her first home, begins to lose one thing right after another. As one by one each aspect of her life falls away from her, she tries with all she has to hold on. Will she be able to withstand the trials and tribulations to reclaim it all? Or, will she die trying?
"Captain" is a made for television streaming series portraying real life people and events. They face relentless challenges to be with the love of their lives, airplanes. As this memoir takes you along for the twists and turns of a present day flight and,  past moments that propel them constantly away from their dream of flying, they stay relentless in their pursuit of the freedom and joy their passion gives them.
It is a tale of a young girl who gazed into the sky and wanted so intensely to be a pilot. She was fearless and intrepid but the outside world seemed so forcefully suppressive and discouraging. Her battles were fought externally but won internally with her endless desire to dance among the clouds and surf the air currents. Will she be able to achieve all her goals in order to make her dream come true? Her co-pilot on a parallel path growing up wanted to be the best. A spoiler alert: If you are currently reading this, it all comes true!
"Adventures in Aviation" is a doc-series showing how aviation and aerospace benefit our world. We open the flight deck door and allow you inside to see our lives as pilots and to show you the realm of our operations. We take you on adventures with us in the airplane to meet with other experts who explain various operations such as: fire bombing, military, space, corporate, helicopters, air traffic control, warbirds, airshows, competition, gliders, balloons, flight schools, manufacturers, testing, rescue, racing, and so much more! Come along with us!


by OCProf
"Very impressive and of interest to anyone, whether they like flying or not!"
"I have been flying for a half a century and almost everything here, from pilot training to what is best to eat on board was new to me. I was especially interested in the rigorous testing the government requires of all aircraft. Also of interest was the debunking of the notion that all a modern pilot has to do is set the plane on auto pilot and sit back and check their Facebook page or read a book. This is an impressive and highly readable book and sure to make the experience of flying more interesting to everyone (Oh the wings are SUPPOSE to flex?) Highly recommended and a great gift idea."


by Dr. George E. Nolly
"Really Pulls Back the Curtain!"
"This comprehensive book does an outstanding job of explaining every aspect of airline operations, from pilot training to weather and maintenance issues to mainline/feeder operations. If you're a white-knuckle flier, this book will really go a long way to put you at ease. And if you're a travel pro who STILL can't understand why you hear a 'barking dog' every time your Airbus jet pulls up to park at the gate, you'll finally find out! This book covers it all, in a lucid, easy-to-understand presentation. As a retired Captain with 36 years of airline service, I'm impressed. I'm really impressed!" (Author of The Hamfist Series and Ready for Takeoff)


by Jim Brewer
"LET'S GO FLY! Everything you, as a passenger, need to know about commercial airline flying. This may save your life!"
"An extraordinarily clear, concise and detailed book on everything that a passenger needs to know about commercial airline travel. Starting with her passion for flying at 15 and moving ever forward in this exciting career path and giving us a brief history of the aviation industry before and after WWII, getting into the design, engineering, production of modern airliners, Captain Laura covers all aspects to try to assure you, the passenger, that every eventuality has been taken into account and that you should be able to rest easy on your flights. She uses a lot of industry terminology and concepts but explained it all in an easily understood and light approach. Safety and health are always the prime concerns, throughout the book. There are countless tips and recommendations how to stay well and in good physical and mental shape even when your flights are delayed, rerouted or cancelled. Choosing an airline, a destination, a route, etc. should always include a number of conscious decisions, except just price. All of this is well explained, as it should be, because your life depends on it! Hooray fir the great job the Captain has done here!"


by Professor Jennifer Zamora MPAP, PA-C
"We both liked reading about the design of the plane and how much it can really take due to weather or other issues"
"As a health care provider, patients ask me to write them prescriptions for sedatives for flights due to their fear. Now, I have been able to tell them about this book, especially since it has helped my husband's fear of flying. We both liked reading about the design of the plane and how much it can really take due to weather or other issues. We even got great tips about the time of day to book our flights for a chance to smoother flights and less turbulence. We also both liked it when she gave relaxing techniques, explained what the sounds are on the plane that may make people nervous, as well as gave details of the extensive training pilots go through to keep us safe. She also gives continued tips and great advice on her website and social medias. Thank you Captain Laura!!!!"