---
---
Hello and thank you for being here to read this with me!
I will start by saying vulnerability is not my strong suit. Sharing my personal, once in a lifetime experience with you gives me joy and angst simultaneously! Yet, here we go!
The Notification:
One day, an email showed up in my website inbox stating that I was being considered for a top award by IAOTP. I was a bit shocked and thought it could possibly be some sort of spam. When I was pursued further and realized it was real, that they were serious, I was so humbled, in awe, and grateful to be recognized in this way! https://www.iaotp.com
With an affirmative nod from me, soon after, Stephanie Cirami, Carissa Peretti, and other staff members got to work writing my press release that went out to over 200 media sights (see in previous article), sent me a gorgeous engraved statue, and invited me to the award gala to acknowledge and celebrate this years' recipients. I was chosen to be the Top Inspirational Airline Pilot of the Year! I cannot do all that I do without the help and support of my right hand woman Kayla Bly, my family, friends, coworkers, and you!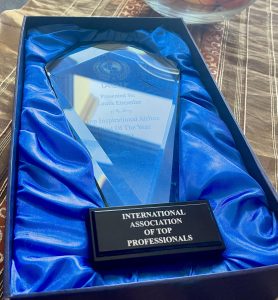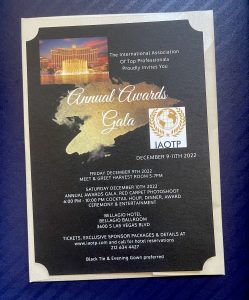 The Invitation:
The amazing team explained to me the details of the award gala taking place at the incredible Bellagio Hotel and Casino in Las Vegas, Nevada. There would be a meet and greet Friday evening Dec 9th followed by a dinner and award ceremony Saturday evening Dec 10th.
We were in the throws of dealing with some serious issues at this time. My father, who had lived with us for eight years, had just passed away. I had just made an emergency trip twelve hours away to be with my son who was severely food poisoned eating at the cafeteria of the university he had just begun attending as a freshman. We were working with our attorneys for mediation and lawsuit over a pipe burst in our floor slab that wiped out half of our home while also navigating the busy holiday travel season.
My daughter implored, "Mom, you HAVE to go!! This is a once in a lifetime, ok well hopefully a few times in your lifetime, award! You have worked so hard for so long to achieve and accomplish all that you have so let them recognize and celebrate you!" We both had happy tears together and I confirmed the attendance the next day.
The Fancy:
What would I wear? What would I say? Who will I meet? Do I go alone? Do I go with someone? Would my husband want to support me in this? Time seemed to accelerate.
As we drove out from Los Angeles to Las Vegas, I was getting excited! The opportunity to get dressed up, celebrate life, and be with other award winners felt amazing.
Friday evening was upon us. I dressed in a little black dress with black patent leather heels and a faux black fur jacket, used my fancy makeup and did up my hair, I wanted to be sophisticated but also playful.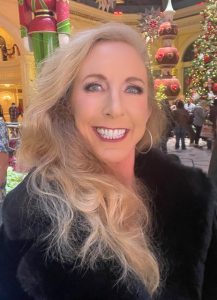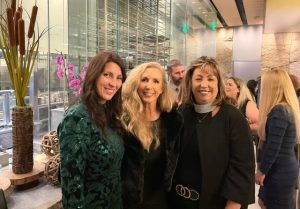 We approached the one hundred people at the Harvest Room, a high end lounge area, and everyone looked so elegant in their suits and dresses! It had been a long time since being in a large crowd full of people close in, I had just enjoyed the socialization and collaboration from the Los Angeles Writer's Conference in August after the pandemic. It was a bit intimidating at first, I kept feeling inside my natural reaction and tendency to think there were things I was supposed to handle, fires I had to put out, items to check off my list of things that must be addressed. "But no…" I had to tell myself, "Laura, this is the time to relax, enjoy, be fully present and fully engaged!"
It was so very interesting and fascinating to meet super stars in their fields and industries,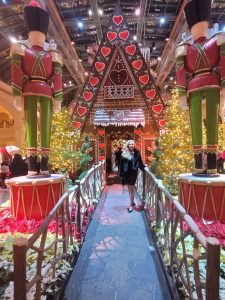 hearing about their achievements, goals, and plans. The two hour event seemed to fly by way too fast! We said our good byes and looked forward to seeing each other the next evening.
The Award Ceremony:
As usual, I was multitasking that day, finishing Christmas cards to send out, ordering last minute gifts, and organizing plans for when we would return back home. I made sure the kids were doing fine and got myself ready, this time in a teal mermaid type dress with faux diamond gemstones and heals adorned the same. I felt beautiful and simultaneously wished I had cut back on those pumpkin spice lattes in the fall!
We drove up to the Bellagio in style instead of adventuring in the more usual shuttle bus or finding the nearest cheap self parking, we valet'd. We felt special in this moment, in this space of time. As we walked through the lobby of the Bellagio and saw all of the beauty and wonderment of their massive holiday displays, I noticed everyone eyeing us. Several children looked in awe, waved, and even pointed asking, "Is that a Disney Princess?" I wish I could have given them some of the Disney treats or magic just then but I smiled and winked as if to say, "Dreams Can Come True if you work hard, are a good person, and help others!"
We walked in to the Grand Ballroom with the three hundred other guests (one hundred fifteen award recipients). It was truly a fairy tale. The room was decorated as if it was out of a movie set with its crystal chandeliers, beautiful showroom centerpieces,  linen tables covered in china, and a grandiose presentation stage. The men were in tuxedos and suits and the women in evening dresses and ballgowns. I had a moment of feeling that somehow I did not belong there, that I, Laura Brewer now Einsetler, the tomboy who loved to play in the mud, pull legs off of bugs, asked for race cars instead of dolls, and preferred kickball over the bars any day, was now here, among these esteemed ultra professionals and makers of their worlds.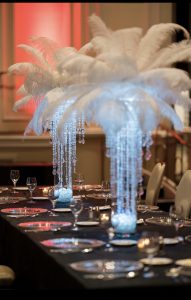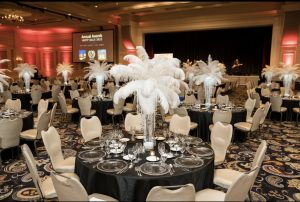 I got internally choked up a few times. "Would you like an hors d'oevre?" the catering staff would say offering us in hand a beautiful silver plate full of ornate food. I flashed back to my teenage days when I worked for years doing that very same thing serving others to pay for my flying lessons. Now, here I was being being served to by these people with sweet smiles and friendly demeanors.
We ate an exquisite dinner of scallops with seafood bisque, salad with all kinds of tasty items, filet mignon with roasted potatoes, and fruit parfait. We had amazing conversations with others and the ceremony began.
The hosts and speakers shared their thoughts and insights to make us all think about where we are today and to embrace having gratitude in all things. I felt humbled and thankful for every aspect. Then, we were called up one by one. Large screens on both sides of the stage displayed pictures of each recipient as a short bio was read by the presenters. I heard them begin to say,"This woman has dedicated over three decades to the field of commercial aviation…" I knew they were referring to me and it was time to walk to the stage steps.
In that moment, my heart was beating fast. I listened intently as they spoke of some of my history. My inclination went to mission mode thinking, "Get quickly across the stage, they are on time segments, do not trip, accept your statue, do not drop it, don't forget to smile…" "No Laura, be here, be slow, you only get this one minute, only this award, only this one time, be ALL IN!"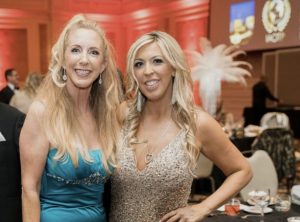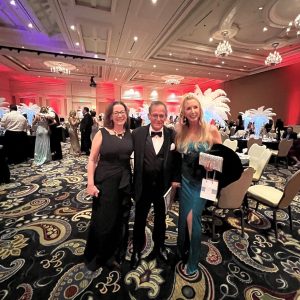 As they finished speaking about me, and turned toward my direction with smiles and claps, I locked eyes with them all on stage as I ascended the stairs. I could hear the entire ballroom clapping so I even gave a kind of sexy wiggle of excitement, and then headed toward the award presenters, as they each enthusiastically hugged me, handed me the trophy, and we smiled for pictures together. I had to pinch myself to know that it was all actually real.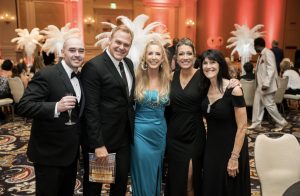 We laughed, engaged, pondered, and exalted for one another. My husband introduced himself often as my arm candy, everyone would laugh and I would quickly redirect exuding pride in his titles and accomplishments. It was a memorable night, one I will never forgot. I am so humbled and honored to have been a part of it all and now a member of the IAOTP Family!
Thank you for sharing this joy with me! I would not be here, able to be who I am and do the things I do without your support!
Sincerely and with Gratitude,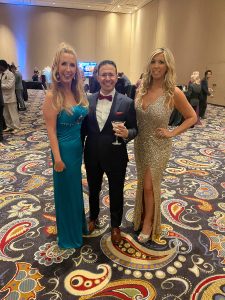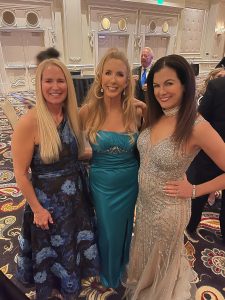 Laura