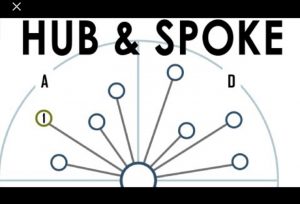 Hello Everyone!
Please follow these guidelines when booking your tickets – especially for summer and holiday travel! When you book your flights directly with the airlines, there is some time protections built in between the time you land from your first flight and the departure time of the second flight. But you must know that when you book on discount sights, these protections are not in place and YOU MUST be the one who makes sure you will have plenty of time! I want you to think about how much time it takes to deplane from your seat in the back. It takes about 15-20 minutes depending on the type of airplane for everyone to exit. You MUST be at your next gate 45 minutes prior to departure. Otherwise, the gate agents start giving away seats to stand by passengers at 30 minutes prior and if you are not there to board, yours will be one of them! Also, the jet door closes and the jetway is pulled off 10 minutes prior to departure. This is to ensure the coveted "on-time' departure. Do not forget the walking time from your arrival gate to the next departure gate. Much of the time, these are across the terminal or possibly in a completely different terminal. At the MINIMUM, you need AT LEAST  1 and 1/2 hrs and that is if your first flight is on time.
Now, lets talk about summertime weather. We often have to deviate around areas of thunderstorms. Sometimes, we need to hang out in a holding pattern in the sky to let the weather pass over the arrival airport. Although the jets are built to withstand severe turbulence and weather, we never want to fly in moderate or severe turbulence if we can avoid it for your comfort (and ours too)! It is fairly common in the summer afternoons and evenings to have delays of 30 minutes to 1 1/2 hrs which will assure you will miss your connecting flight if you did not plan a significant time cushion. This also creates a snowball effect of rolling delays. Even though your routes may be weather free, the jet may have came in late from an area of weather. If you do miss your connecting flight, weather is not something the airlines reimburse for, nor will they pay for hotel rooms for you. They will however, put you on a standby list for another flight later that night or the next day but only IF there are seats available! In the summer and holidays, most flights are booked to the max or oversold to ensure 100% BIS (butts in seats!). So, why not take first flights in the mornings for smoother air and more solid chances of making your connections with 2 – 2 1/2 hr planned connection times? You can eat a healthy lunch, drink a yummy beverage, and have a much more relaxing experience!
Please be aware of code sharing. Airlines work together for route trading. PLEASE look when you book to know if it the same airline for all your flights. You may think you have booked on Brand A but they may code share with Brand K and one or more of your flights may be flown by them. This means you may need to check in or transfer to another terminal. Sometimes, this may also mean you have to go through security again and you will even need much more time to connect. Another gotcha happens when you must traverse through customs for your international flights. Plan an extra 45 mins to an hour on top of the above time since lines will be very long.
My sister Jenny wanted me to explain the hub and spoke connection concept too for you! If you frequently fly Brand A but now want to go direct to an airport which shows as unavailable without a connection, it is because of the system structure. It is much more efficient and reliable for airlines to fly their jets and you through their hubs. Think of it as a bicycle spoke with the airline hub in the middle. If you want to fly from one end of the spoke at airport 1 to airport 2 at the other end of the spoke, you have to pass through a hub first. Usually, if you can get a direct flight, it is because either you departure destination or your arrival destination is a hub for that particular airline. Certain sized aircraft are restricted to certain airport runway lengths and support services as well.
United: Newark, NJ (EWR), Washington, DC (IAD), Chicago, IL (ORD), Denver, CO (DEN), Houston, TX (IAH), San Francisco, CA (SFO), Los Angeles, CA (LAX)
Delta: Atlanta, GA (ATL), Detroit, MI (DTW), Memphis, TN (MEM), Minneapolis, MN (MIN), Seattle, WA (SEA)
American: Chicago, IL (ORD), Dallas, TX (DFW), Phoenix, AZ (PHX)
And many more!
For more information to help make your air travel much smoother, please grab a copy of my book "Remove Before Flight" to remove any concerns you may have! Available in paperback or digital on Amazon, Barnes, Lulu, and Kobo via the link on the home page. I would be grateful for reviews and sharing with others!
I wish you blue skies and smooth rides!
Captain Laura