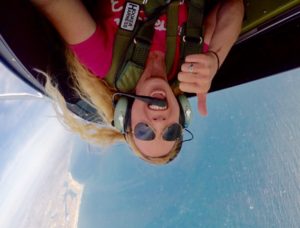 Hello! (5 minute video at the end)
Someone very close to me said I should share my experience with the world!  Because of the historical mark the P-51 made in protecting us all and because it was one of the best experiences of my life, here we go! Strap in with me and hold on tight! (5 minute video is at the end of the article and in the video section!)
Forever, I have wanted to fly a P-51 ! I think the love affair comes from my affinity for vintage aviation and the magic these airplanes hold in history. It also comes from my airshow days when I was a Director of Operations for Wanda Collins (stud female airshow pilot) where we would ogle and salivate when we saw their beauty and heard their engines roar. Each year, I participate in the Reno Air Races, the amplification is a bitter sweet exercise in self restraint and awe as they race!
My good friend and airshow performer John Collver has always known this. There is a P-51 that flies out of Torrance Airport and occasionally rumbles by my house along the cliffs. Every time he lets it loose, I feel like the little boy Christian Bale in Empire of the Sun jumping for joy!
My pilot brain, which can tend to over analyze (you say "really?") has thought about "ride alongs". Most P-51s that are still flying are single pilot seat with an extra seat behind. What if the pilot slumps over? Would't I just "be along for the ride" in the back?
Last Friday, I was on 'Field Standby" at LAX. This is where we must be at the airport and ready to spring into action if the airline calls us last minute to fly. I was going to be released at 11:00 if they did not use me. John called about 9:30 and told me that the Collings Foundation was at the Torrance Airport for Wings of Freedom Tour with their B-17, B-24, B-25, and P-51 ! All of the airplanes are in perfect vintage condition and all fly passengers! They are gorgeous, pristine, and fabulous!
He said I could actually FLY the P-51, that this is a rare dual control training aircraft "Toulouse Nuts"! As it turns out, there are only 3 left of these D models left in the entire world! I did not have much time to "analyze" or think too much about it because they only had two slots left the entire weekend – Friday at 1200 and at 1630. I asked if he would hook me up, but that I could not commit for sure until after 1100, once I was off duty and did not have a call to fly the B737. I wanted the 1200 slot because the winds were already kicking up and I did not want my once in a lifetime ride cancelled! I said a prayer "Lord, if I am meant to fly this Baby, then please clear the path for me! No phone call, no logistical issues, and a safe flight"!
I asked John if they were ok to have my slot on standby and if they had a Go Pro. There was no way I was not going to get this epic flight on record! At 1100, I sprinted out of the airport area, into the H2, booted over to Frys to buy a Go Pro, and promptly locked my keys in the truck! I was so excited that my mind was blowing up! haha! Of course the On Star had expired in December. I crawled all around the ground in my uniform trying to find my spare key that obviously a previous mechanic must have taken! I had to wait for the USAA guy to come and balloon my door open to switch the latch and get inside. Now I was super stressed, changed my clothes really fast from my trip luggage, went mach 3 through the store to get that camera, and raced to the airport!
I kept texting eta of 1215. I felt like such a loser that I could not even make this epic ride on time! Well as it turns out, the pilot had already taken it up earlier for a test flight because they had changed out the carburetor the day before. He was eating lunch now to gear up for the rides. (I could totally relate! We flight crews love to eat and after all, I want this guy's blood sugar up!) The pilot walked up and was much younger than I was expecting. I think he probably thought the same thing about me since John had already told him I was an airline captain, had previously flown aerobatics and did airshow ops, and was a "great stick" (I hit John and said "thanks a lot! no pressure there!" haha!) Dave Wopat is a pilot for a different major airline who bids senior reserve to get weekends off to fly shows and rides in multiple aircraft including the Flying Wing too! I gave them both copies of "Remove Before Flight" to thank them for their efforts and they were happy.
Everyone in the crowd seemed to think I was someones "wife" and wondered "does this chick have any idea or understanding what she is about to fly and do?" I felt like a giddy school girl inside! I could not believe I was about to have the ride of my life!! We climbed in and strapped on. I talked to the guys about the Go Pro and they helped suction it to the dash. Unfortunately, when that happened, the camera was selected out of video mode an into rapid picture mode which I did not know. (I was so grateful to at least have 3400 still shots instead of nothing since I could have been selected to "off"!) As soon as that powerful 1450hp Merlin engine was cranked up, the Go Pro instantly blew right off the dash! It was a challenge finding it under my feet being so tightly strapped in but I knew I had to get it out or it would bonk into our heads during aerobatics or get stuck up under the rudders possibly jamming them. We closed the atrium like canopy and I attached it on there awhile until it fell off again.
The sweet craft rumbled and purred and whinnied! It was fabulous to have a stick in between my legs again that I could control! A full set of well, mostly working instruments but no gear or flap handle. I was bummed knowing if something happened to Dave, the best I could do would be to slide it in gear up. I asked about approach speeds and landing speeds with power settings – 160 its and 130 for target (close to 200 MPH).
We taxied out – visibility over the nose was a bit better than I expected (because it it is a more narrow nose that a T-6, Stearman, etc.) It was gusty winds but mostly down the runway. We did a run up and talked about what we were looking at. I told Dave to just keep talking about everything he is thinking, seeing and doing – this so I could experience it from a veteran P-51 pilot perspective! Powered up onto the runway, got some speed, tail came up, he kept it level on the mains for a few seconds and then we lifted off!!! We got a gust but then climbed away from the airport. My heart was jumping for joy!! Lots of right rudder in for to counteract the torque.
Oh my God, it was soon fantastic! The freedom, the clear canopy, the feel of the power and the rush of the speed!! Pure and total bliss!! We flew out over the ocean and cranked it sideways along the cliffs of Palos Verdes. I told him we were buzzing my house by the lighthouse and as usual I got the "how can you afford that?" question. I explained that I learned another skill set when I was laid off after Sept 11th, 2001 which was house flipping and real estate investing. I thought we would stay in the area there but we kept heading south past Long Beach and Orange County. He had me do some flying and said I was doing excellent. (Well this because I had already self taught that the heading indicator in the back was 20 degrees off and the altimeter was 100 feet off and watched his power settings on the gages. When it was my turn, I got to nail it! 🙂
It was so awesome to see when a B737 took off from Orange County Airport then it turned to parallel us a ways! Man it felt incredible to fly a far formation in a Mustang with that jet! Whoohoo!
I wanted to get some aero in. We kept getting hard IFR altitudes from ATC. Dave kept asking for block altitudes but the airspace was just too busy with other airplanes that were flying that Friday afternoon. I said "Do not dare take me back until we have pulled some G's Baby!! He was like "Yes, Captain!". We got a block altitude of 500ft difference was plenty! He talked through the nose down acceleration for speed, pulled slight aft stick and then whipped it hard left! I was yelling for joy!! Whoohooo!! Yes!!! Yeah Baby!!! It was soon freaking fun!! I said "It has been waaaayy too long. Man I miss this feeling!"
As we headed back, he showed me how he kept pulling the power slowly back (so as not to chock cool the engine) but that the speed just kept increasing! She really wanted to run like a will horse that she is! We talked about the pattern break and how the approach would look like we are too high. (Glide ratio is brick comparative with the weight of the airplane and the smaller wings – Probably similar to an F4!) It was really gusty now, 20 kts variable to 30. He kept the power up and really worked it on! Great Job Dave! We taxied back and rumbled in to our spot. I did not want to get out! I wanted to stay in it forever! haha! There were other people who were patiently waiting for their turn so I had to eventually come out of the cockpit!
It was one of the most amazing experiences of my life! Definite top five for sure! I was able to log .8  TF-P51D time in my logbook signed which is incredible. A total bucket list item checked off! I felt so blessed and so grateful. It truly was "Livin' the Dream" in those moments! If this is something you have always wanted to do, DO IT!! Give yourself permission to gift yourself this experience!
I hope this was a good read for you! Thank you for being on this journey with me and sharing this experience together! Please go to The Collings Foundation Website below to see when and where they will be, Their mission is to promote aviation, boost history, and raise money to keep these beauties flying! Share it with people you know who love what we love!
Blue Skies!
Laura
Music Credit: "If I Could Fly" by Die Happy!