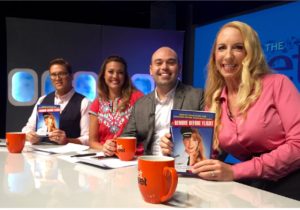 Hi Everyone!
I had so much fun with the awesome team of the travel talk show called "The Jet Set"! The executive producing team of Gailen David, Bobby Laurie, April Carter, and Brad Smith create an amazing television and internet show centering around what you need to know to have the best travel experience possible! The weekly segments include industry news, places to go, fitness on the fly, tech and travel items, and special guests that help inform you about current topics. What fun you see on the air with Gailen, Bobby, and Nikki Noya, is exactly how they are when the cameras are off! It is a perfect mix of intellect, vision, creation, information, and synergy to bring you a great and entertaining show!
Catch all the episodes on your local cable channels and on their website at https://www.thejetset.tv! (Yours truly is a guest on this week Feb 25th, 2017 episode #46 and another airing in April. I am also on week of Oct 17th, 2016 episode #30, and week of Oct 10th, episode 29)!
Link below to the full episode #46 for the week of Feb 25th, 2017!