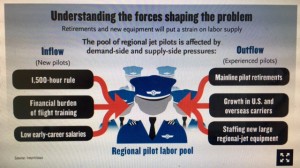 Hello Everyone!
The Pilot Shortage is a fact and is now upon us. Regional carriers (the companies that supply feeder service to the larger hubs and major airlines) are now having to cancel flights each month because they simply do not have enough qualified pilots. According to Travel Weekly Jan. 4th, 2016, Republic Airways (which operates as Delta Connection, United Express and American Eagle) have experienced monthly cancellation rates as high as 9% and at SkyWest, cancellation rates as high as 7%. This may not be enough of an impact yet for the public to take notice, but as regional carriers pull service from routes and cancel more flights, the small and mid-sized communities they serve will be greatly affected. The largest pilot union, ALPA (Airline Pilot Association), sees this problem being caused more by inadequate pay for regional pilots. They contest that potential pilot are making an economic decision not to join regional carriers. They cite that the starting average salaries of $22,000 do little to offset the initial pilot training costs between $150,000-$200,000.
ALPA Aviation Safety Chairman Chuck Hogeman said "…there is a shortage of licensed qualified pilots who are willing to work for some of the pay and benefits offered by some of the airlines and many that actually need those pilots". Considering that many of the major airlines used experienced regional pilots as a key source for filling future pilot needs, the shortage problems will inevitably trickle upward to filling pilot seats at the majors.
According to a July 2015 Boeing Pilot Outlook projection, the worldwide demand for pilots over the next 20 years is more that half a million pilots needed by the year 2035. Dan Atkins (Travel Weekly Article Jan 4th 2016) who is a transportation economist and has set up a consulting firm called Flight Pat Economics two years ago in anticipation of the pilot shortage says, "It is not going to get better, it is only going to get worse. It's almost like a contagion."
So where are all the new pilots? The industry impacts over the last 15 years since September 11th 2001 attacks, bankruptcies, mergers, and pilot layoffs have had quite an affect on the pilot profession. It has caused a shift in the attitudes and willingness of potential pilots to stick it out long enough to make it to the major airlines. In many cases, they decide either not to start down the road at all or go to an international carrier that pay more in wages and benefits without the required experience and flight time. There is no guarantee of job progression and upward mobility with the turbulence in the industry. People are no longer enamored by the fictional "glamorous lifestyles" of the old days of piloting as they see the long hours, time away from home, and responsibility.
Let's talk solutions. We definitely do not want to reduce the amount of experience required for hiring at these airlines, nor do we want to cut back training any more that it has been.
Some carriers are working on streamline programs to take pilots from training schools and colleges through to instructing positions and into the seats of the regional jets. It is a bit like one stop shopping for the initial half of their careers. Some other carriers are helping with tuition reimbursement and placement programs.
We could implement student loan relief of both payoffs and requirements. There are some doctor programs that allow this once the student becomes a full fledged, working doctor so why not relieve the pilot once they have proven they can do what it takes to stay the course.
Mass market flight training through schools, colleges, universities, in order to light the fire in these future pilots.
Increase the pay and benefits of regional pilots. It should not be a "hazing" type experience similar to doctors in residency. Long, fatiguing hours with little pay makes these professionals distracted from their critical duties.
Give incentives to keep the pilots here that are training in the United States so that they do not take jobs abroad.
This is an issue that affects all of us. We do not want safety compromised in any way. It will take many years to change the course of this situation and it is not possible unless we highlight it and take action now. Normally, it takes a pilot approximately 8 years of flight training and work experience, whether in the military or civilian realm, to reach the level required to fly for the major airlines. This level of history and professionalism is why the airlines in the United States have had the incredible safety record they have had to date.
Blue Skies! Thank you for flying with me, I will see you onboard again soon!
Laura